Donald Sterling, the most hated man in America (a damning indictment on the latter), has Alzheimer's, TMZ reports. This is good enough to declare him legally incompetent and therefore defenseless against NBA grift, but not unaccountable for a nonracist dialogue with his mistress.
But former Microsoft CEO Steve Ballmer is bailing Sterling out. His $2 billion bid for the Clippers makes it the 6th most valuable sports franchise in the world and the most valuable basketball franchise in America. It looks like Sterling will beat the rate of inflation on his 1981 purchase of the team for $12.5 million. Unadjusted, that's a 16,000 percent profit. Sterling lost the game, but he still won.
It sounds like J. A. Adande has listened to the Sterling tape and drawn his own conclusion:
He was being very specific, saying he didn't want her associating in public with black men. He hinted at some very sinister reasons why he felt that way, but he didn't go off on a diatribe about black people.
But he sticks with the libel nonetheless:
It shouldn't take a legal definition of bias for the other NBA owners to oust Sterling. It's a private group, and it's up to them whether they want to continue to have him in their midst and serving as a representative of them. Cuban's concern is that the low threshold could one day be used to bounce him, as well, especially if he's going to remain candid and admit to his own flaws.

Where Cuban should be reassured—and the rest of us should be reminded—is that having prejudiced thoughts doesn't make someone a bigot. Only acting like a bigot does.
"Acting like a bigot" would entail action, as well as bigotry, neither of which is there evidence.
Speaking of Mark Cuban, he and I have similar sports fantasies:
"I want San Antonio to win," Cuban said on 105.3 FM earlier this week. "I want Tim Duncan to hit a game-winning shot to win Game 7, then go to The Finals, do the exact same thing, hit a game-winning shot in Game 7, run the tunnel, and never be seen from again. I want him to retire on the spot."
I get a little weepy when I think about Duncan. He's been my idol since I started paying attention to the Spurs in 2003, after the second championship. Then, as a moody 17 year-old boy, I regarded Duncan as a Nietzschean superman, but as I've matured I've come to appreciate him for what he really is, a rock of help. When he retires it will be like losing a friend. Remember when Frodo said goodbye to Sam? It will feel like that.
Marc Stein wrote a great piece on the Popovich-Duncan era, including this snippet:
If the world's media can get them trapped at the NBA Finals lectern, with no escape, perhaps they'll be coerced into sharing some level of clarity. Perhaps these two will find a way, at last, to see off the stubbornly spry and hyperactive Thunder, avenge last June's Finals heartbreak and then be forced to decide whether to seize the opportunity to leave the game in the same triumphant and storybook manner The Admiral did.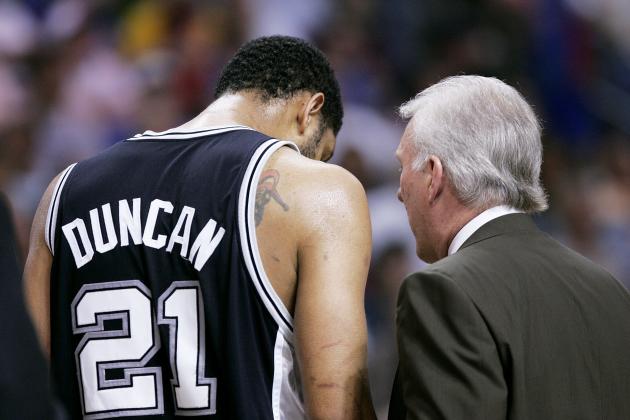 Odd that, in such a personal essay, Stein doesn't mention the messy divorce from his college sweetheart Duncan went through last summer. He only casually mentions his current status as a "single dad."
Speaking of divorce, it's apropos to liken Tim Duncan and coach Gregg Popovich's relationship to a marriage. Despite their accomplishments, they are humble and unassuming and work through their issues without feeling slighted or quarreling. Shaun Powell writes at Sports on Earth:
Popovich is flexible and Duncan is coachable. That's why this relationship works and why the Spurs, once again, are in position to win a championship. It's an amazing study in discipline, respect, old-school values and a singular purpose: winning. Egos are left outside the door like a wet umbrella.

"Both Pop and Tim are unique in that they have a lot of love for each other, really," said R.C. Buford, the Spurs' longtime general manager, recently. "It's not just professional, as you see in most other places. It's deeper than that."
That reminds me of an article on marriage my girlfriend sent me last year. Sub in Kelly Flanagan's "losing" for Powell's "winning," and the principle is the same. Flanagan inverts "winning" to jar the reader out of the mindset that marriage is, like much of life, a competition, a struggle. Partners don't compete against one another and remain partners for long. Jesus "lost" on the cross, but He won our souls. Anyway, Flanagan writes:
In marriage, losing is letting go of the need to fix everything for your partner, listening to their darkest parts with a heart ache rather than a solution. It's being even more present in the painful moments than in the good times. It's finding ways to be humble and open, even when everything in you says that you're right and they are wrong. It's doing what is right and good for your spouse, even when big things need to be sacrificed, like a job, or a relationship, or an ego. It is forgiveness, quickly and voluntarily.
As they prepared for the Finals, Lebron James and the Miami Heat spent 2 days stewing on an innocuous 5-second sound bite from Duncan.
Immediately after San Antonio beat Oklahoma City in Game 6 of the Western Conference finals to set up the NBA Finals rematch with the Heat that begins Thursday, Tim Duncan said, "We've got four more to win. We'll do it this time."

The Spurs nearly did it last year, but coughed up a five-point lead in the final half-minute of regulation of Game 6 before losing Game 7. The agony of that loss, San Antonio's first in five trips to the finals, led James to surmise that the Spurs aren't very fond of the Heat.

"They don't like us. They don't," James said Monday in Miami. "I can sense it from Timmy's comments over the last couple of days. ... They want us, so they got us."

The Spurs, whose demeanor and remarks are normally as plain as sandwich bread, were a bit taken aback by James' reaction.

"Knowing Timmy, that's not trash talking," San Antonio's Tony Parker said. "I don't think he meant it like that. But obviously, we are very motivated and we want to get it done. At the same time, we realize we are playing a very good team that went to the [Finals] four times in a row and won the last two."

Spurs guard Manu Ginobili said the comment was taken completely out of context and "not a big deal at all." He and Parker both said the Spurs have great respect for what the Heat have accomplished, having never made it to back-to-back NBA Finals until this season.
This isn't the first time Lebron overreacted without knowing what he was talking about. Recall his misinformed activism on Trayvon Martin and Donald Sterling.
If leaning on a fantasy of a big, bad enemy keeps you motivated, by all means do it. But don't publicly cast aspersions based on flawed perception.